One moment of recklessness will change their worlds
Smart. Responsible. That's seventeen-year-old Breanna's role in her large family, and heaven forbid she put a toe out of line. Until one night of shockingly un-Breanna-like behavior puts her into a vicious cyberbully's line of fire—and brings fellow senior Thomas "Razor" Turner into her life.
Razor lives for the Reign of Terror motorcycle club, and good girls like Breanna just don't belong. But when he learns she's being blackmailed over a compromising picture of the two of them—a picture that turns one unexpected and beautiful moment into ugliness—he knows it's time to step outside the rules.
And so they make a pact: he'll help her track down her blackmailer, and in return she'll help him seek answers to the mystery that's haunted him—one that not even his club brothers have been willing to discuss. But the more time they spend together, the more their feelings grow. And suddenly they're both walking the edge of discovering who they really are, what they want, and where they're going from here.
My Review
I think no one can question the fact that Katie McGarry is the queen on young, troubled boys. She is the master of good girls and bad boys love stories. With every book you get deeper into the world of teenagers with big issues.
Breanna is the smart girl. She lives in a box and nobody outside of it can see her. Her box was her own doing, meant to protect her after her big sister Carla messed up with her head years ago. But now, at seventeen, she wants out. She wants to be seen for who she is because she is way more than a photographic memory. But her plans of getting out of her hometown are screwed up by her parents. Then Razor walks into her life. He is everything a good girl like her should walk away from.
Razor, known as Thomas until he joined the Reign of Terror motorcycle club, is the bad boy. Certainly, he has problems. Lots of them. He is still haunted by the ghost of his mother years after she died. He and Breanna together are the recipe for failure, but maybe sometimes two different people are whole only when they are together. Razor helps Breanna to see outside her little box and she helps him discover the mister of his mother's death and if his family, the Reign of Terror, had anything to do with it.
I was a teenager, we all were at some point, but it is only me or being a teenager isn't this hard? I know that this age is a nightmare, but the problems weren't that bad.
Breanna's family is a piece of work. I think people should make no more children than they are capable to look after. It isn't fair to make children and then let them look after each other. You can't expect your children to give up their dreams and all that's good for them to look after their younger sibling. When you are a parent you want what's best for your children and not to sacrifice them. I can't empathize with them at all.
On the other hand, I couldn't understand Razor's family either. They lie to him for years even when they see that it's killing him. So Breanna and Razor's life is made harder by the people meant to always take care of them. But they find each other and they support each other when nobody else does. I loved that!
There are lies in life we accept. Whether it's for the sake of ignorance, bliss or, in my case, survival, we all make our choices.
"Reagan said she heard you have to kill someone in order to be part of their club "Killing someone sounds dramatic," I answer. "There's a ton of guys in the club, and with the low population of Snowflake the police would notice if that many people went missing."
She came searching for a memory and I'm sure as hell giving her one. Just the nightmare version everyone else in town also shares of me.
Sometimes people don't listen until bad things happen. They realize then they should have listened instead of talked. Sometimes people are too busy hearing what they want to hear, seeing what they want to see and they don't care what's real, only what they think is real."
Bridges are meant to connect. They're meant to defy drops and distances, but occasionally we lose our way…we fall off, we drive off, we consider jumping.
IN THE SERIES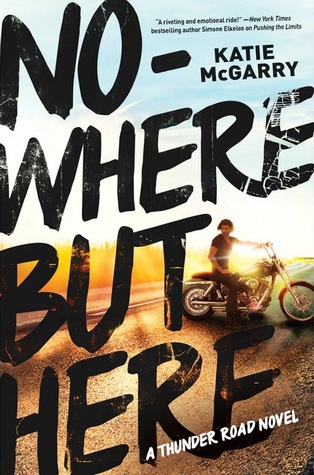 Katie McGarry was a teenager during the age of grunge and boy bands and remembers those years as the best and worst of her life. She is a lover of music, happy endings, reality television, and is a secret University of Kentucky basketball fan. Katie is the author of full length YA novels, PUSHING THE LIMITS, DARE YOU TO, CRASH INTO YOU, TAKE ME ON, BREAKING THE RULES, and NOWHERE BUT HERE and the e-novellas, CROSSING THE LINE and RED AT NIGHT. Her debut YA novel, PUSHING THE LIMITS was a 2012 Goodreads Choice Finalist for YA Fiction, a RT Magazine's 2012 Reviewer's Choice Awards Nominee for Young Adult Contemporary Novel, a double Rita Finalist, and a 2013 YALSA Top Ten Teen Pick. DARE YOU TO was also a Goodreads Choice Finalist for YA Fiction and won RT Magazine's Reviewer's Choice Best Book Award for Young Adult Contemporary fiction in 2013.