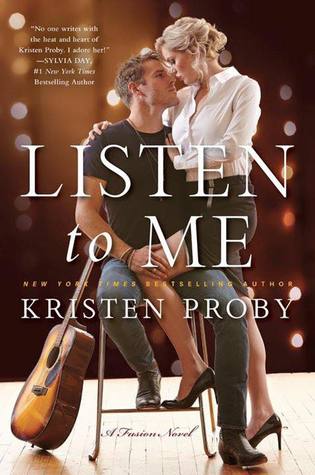 In New York Times and USA Today bestselling author Kristen Proby's brand new series, five best friends open a hot new restaurant, but one of them gets much more than she bargained for when a sexy former rock star walks through the doors—and into her heart.
Seduction is quickly becoming the hottest new restaurant in Portland, and Addison Wade is proud to claim 1/5 of the credit. She's determined to make it a success and can't think of a better way to bring in new customers than live music. But when former rock star Jake Keller swaggers through the doors to apply for the weekend gig, she knows she's in trouble. Addie instantly recognizes him—his posters were plastered all over her bedroom walls in high school—he's all bad boy...exactly her type and exactly what she doesn't need.
Jake Keller walked away from the limelight five years ago and yearns to return to what's always driven him: the music. If he gets to work for a smart-mouthed, funny-as-hell bombshell, all the better. But talking Addie into giving him the job is far easier than persuading her that he wants more than a romp in her bed. Just when she begins to drop her walls, Jake's past finally catches up with him.
Will Addie be torn apart once again or will Jake be able to convince her to drown out her doubts and listen to her heart?
I think Listen to me was exactly what I needed. I've read so many great books in which the boy breaks the girl's heart because he had a sad childhood or someone broke his heart, but then he realizes he made a mistake and he apologizes and she just jumps back into his arms because, hey, they love each other and love is stronger than anything else. I don't think I know a single person in real life who would do just that. And if I'd know one I would send her to a shrink. So it was refreshing to read a book about a strong woman, one that doesn't like to be walked over.
Addie has a bad history with men. She always had a soft spot for musicians, usually the bad guys and her heart ends up broken every time. So when Jake, a former rock star, ends up in her restaurant she tries the hardest to resist the attraction. But Jake is just too sweet and she can't say no when he asks for something. They make a great couple and they are happy until both their daemons come back to haunt them.
Jake had a band, success, all the women he wanted and more until a disaster happens. Five years later he still thinks he's the one to blame for what happened. So he stays away from everything. Until he meets Addie, who seems to be everything he wanted in a woman and didn't knew he needed.
Now the best part, the secondary characters, aka the girl squad. The most amazing group of friends! Addie, Cami, Mia, Kat and Riley. They are amazing. That type of friends you don't really see in real life. Addie, Cam and Mia had been friends since forever and Kat and Riley had joined the group in college. They had opened a restaurant and it's becoming a big hit in Portland. They have a nice dynamic, always support each other and are there every time one of them needs it. I'm a little bit envious, even if I too have great friends.
"You know, you have a membership to this gym," I remind Cami as we begin walking side by side on the treadmills. She's glaring at hers, as though it's an evil entity. "I know. And I came here, once." "Once?" I chuckle and increase my speed. "I had these horrible side effects. I got sweaty. I was out of breath. My legs were shaky. I'm pretty sure that all means that this is not good for me. I mean, I couldn't breathe, Addie."
Listen to me is a must read, it's easy, with strong emotions and lots of fun. Addie and Jake heal each other in a way and I can't wait for Close to You, to discover Cami and Landon's story. Kristen Proby's style is addictive.


"You showed me what I need in a woman, Addison. I need someone who calls me out on my bullshit. I need someone who sees the fire in my eyes and wants to play with it, not try to extinguish it. I need someone who challenges me; in the bedroom, in my career, in my crazy head. And you know what? I found all of that in you."
Happy reading!