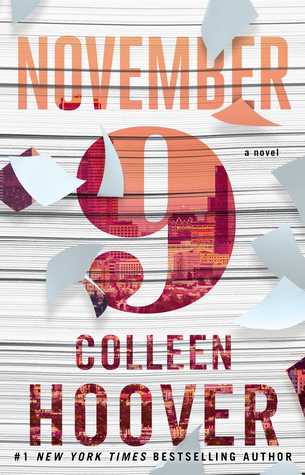 Beloved #1 New York Times bestselling author Colleen Hoover returns with an unforgettable love story between a writer and his unexpected muse.
Fallon meets Ben, an aspiring novelist, the day before her scheduled cross-country move. Their untimely attraction leads them to spend Fallon's last day in L.A. together, and her eventful life becomes the creative inspiration Ben has always sought for his novel. Over time and amidst the various relationships and tribulations of their own separate lives, they continue to meet on the same date every year. Until one day Fallon becomes unsure if Ben has been telling her the truth or fabricating a perfect reality for the sake of the ultimate plot twist.
In primul rand, multumesc librariei online Book Express pentru aceasta carte. Pe site-ul lor puteti gasi o gama variata de titluri in engleza.
De fiecare dată când încep o
carte
scrisă de Colleen Hoover sunt convinsă că voi vărsa lacrimi serioase pe paginile ei, dar mereu încerc să mă conving că nu poate fi așa de rău. Câte tragedii pot exista pe lume? Destul de multe, dacă iei la rând cărțile lui Colleen. November 9 a fost o altă sursă de lacrimi. Nimic nou în asta.
"I want you to follow your passion instead of yout heart."
November 9 are legătură cu o altă poveste a lui Colleen Hoover, o poveste pe care acum o putem citi și în limba română: Ugly Love. Ben, personajul principal, este fratele mai mic al lui Ian, pe care probabil vi-l amintiți ca fiind cel mai bun prieten al lui Miles, protagonistul din Ugly Love, fața urâtă a iubirii. Miles și Tate apar foarte puțin în November 9, dar oricum mi-a făcut mare plăcere să îi reîntâlnesc, după ce am petrecut atât de multe clipe emoționante în propriul lor volum.
"People say not to judge a book by its cover, but what if you somehow read the inside of the book without seeing the cover first? And what if you really liked what was inside that book? Of course when you go to close book and are about to see the cover for the first time, you hope it's something you'll find attractive. Because who wants a incredibly written book sitting on their bookself if theu have to stare at a shitty cover?"
Așa, acum să trecem la personaje.
Viața lui Falon pare perfectă. Are un tată celebru, o mamă care îi oferă numai sfaturi bune și o carieră de succes la Hollywood, deși are numai șaisprezece ani. Până în ziua incendiului. Scapă cu viață, însă rămâne cu cicatrice pe toată partea dreaptă a corpului, de sub ochi și până la talie. Cariera îi este distrusă, la fel și încrederea în propriile forțe.
"One of the things I always try to remind myself is that everyone has scares. A lot of them even worse than mine. The only difference is that mine are visible and most people aren't."
În încercarea de a-și reconstrui viața, Falon decide să o ia de la capăt în New York. Dar, cu câteva ore înainte de îmbarcarea în avion, îl întâlnește pe primul ei fals iubit. Să-și ia la revedere de la el este mult mai dificil decât pare, dar Falon nu vrea să se îndrăgostească înainte de a împlini douăzeci și trei de ani, adică mai are de așteptat cinci ani.
Ben vine cu o propunere nebună: să se întâlnească în fiecare an, în aceeași zi, în același loc. Și pentru a face lucrurile mai interesante au teme de făcut până la următoarea întâlnire. Ben este un scriitor care încă nu a scris nicio carte, bântuit de propriii demoni. Falon devine inspirația lui. Și împreună au șansa să fie unul pentru altul catalizatorul care îi face să lase trecutul în urmă și să trăiască în prezent.
"What if we meet up next year on the same day? And the year after that? We'll do it for five years, sama date, same time, same place. We'll pick up where we left off tonight, but only for that day. I'll make sure you're following through with your auditions and I can write a book about the days we're together."
Întâlnirea are loc în fiecare an, pe 9 noiembrie, cum era de așteptat, o zi importantă pentru amândoi. Este ziua aniversării accidentului lui Falon. Dar oare care este importanța zilei pentru Ben?
Cartea
este construită simetric, povestea lui Falon ne este dezvăluită la început și a lui Ben la final. November 9 cuprinde fiecare din cele cinci întâlniri dntre Falon și Ben, din ambele puncte de vedere. Primele două sunt amuzante și fără prea mari complicații, dar de la a treia lucrurile o iau razna și se îndreaptă spre mai rău, de la inima frântă la inimă strivită și ciopârțită cu satârul.
"If people are lauthing at you, it means you're putting tourself out there to be laughd at. Not enough people have the courage to even take that step."
Așadar, pentru fanii lui Colleen Hoover, November 9 se încadrează perfect în genul ei. Dacă aveați impresia că nu a mai poate găsi un alt mod să vă distrugă iluziile cu privire la iubirea simplă și liniștită, vă înșelați. Hai să ne pierdem din nou într-o poveste care ne va marca pentru totdeauna.
" Because ehn you love someone, you owe it to them to help them be the best version of themselves that they can be. And as much as it cruches me to admit this, the best version of you doesn't include me."
Lectura placuta!