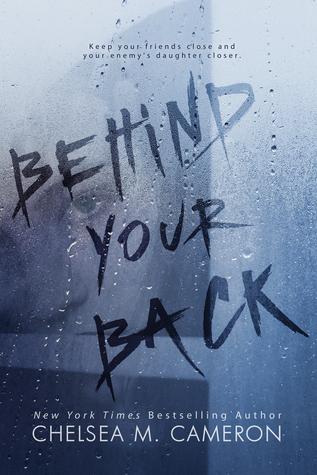 To get to him, I need to use her.
I'll play her like a violin and have her falling in love with me before she even knows what's happening.
It will be easy. I've done it before and I'll do it again.
She's just a girl.
A tool to get what I want.
When I'm done with her I won't think twice about walking away.
At least, that was what I thought.
Until I met her.
THOUGHTS
Behind you back is a game of secrets and lies. The question is how much can you take before you lose yourself in your own game.
What kind of person you'd be if you got to live someone else's life.
Quinn Brand is not a person, just a name created to get money from Mr. Beaumont and to seduce his daughter, Saige, in order to get the plan completed. But, in the labyrinth of lies, Quinn comes to life when her voice whispers his name and Sylas (his true self) becomes a distant memory. When the game comes to an end, Quinn knows that he has to let everything go but with Saige he also loses a part of himself that he would never get back. Which one of them is the predator and which is the pray?
That sounds painful. Getting to know someone can be sometimes.
It was clear from the beginning that Quinn was part of something big, with his plan, his boys and his secrets. It was harder to understand what was the meaning of it all and I'll have to wait for Back to Back to discover what set off the organization and the lies. There were just too many secrets and to little truth.
In the end, all the story was a lie, because Quinn lies and Saige lies too. In the middle of it all, the only truth that stands is their love and the fact that both choose the mission not the heart.
Quinn's relationship with his sister is sweet. With her he is real and he cares about her. When he meets Saige, he is intrigued, but she is the target and nothing more. Until she gets under his skin. Then, she becomes everything, just not enough to let the past go. The struggle between Saige and the mission becomes too much and he begins to fall. The hand that saves him is the same hand that pushed him in the first place.
It's a must read book with so many unanswered questions that made me crave the next one.
She's everything I never knew I wanted or needed.
Chelsea M. Cameron is a YA/NA New York Times/USA Today Best Selling author from Maine. Lover of things random and ridiculous, Jane Austen/Charlotte and Emily Bronte Fangirl, red velvet cake enthusiast, obsessive tea drinker, vegetarian, former cheerleader and world's worst video gamer. When not writing, she enjoys watching infomercials, singing in the car and tweeting (this one time, she was tweeted by Neil Gaiman). She has a degree in journalism from the University of Maine, Orono that she promptly abandoned to write about the people in her own head. More often than not, these people turn out to be just as weird as she is.