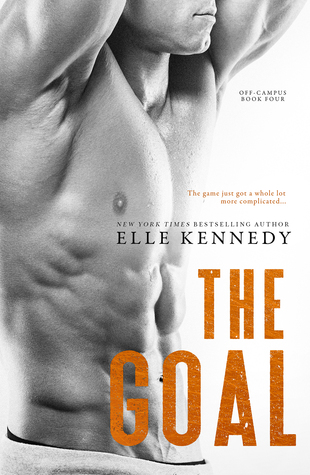 She's good at achieving her goals…
College senior Sabrina James has her whole future planned out: graduate from college, kick butt in law school, and land a high-paying job at a cutthroat firm. Her path to escaping her shameful past certainly doesn't include a gorgeous hockey player who believes in love at first sight. One night of sizzling heat and surprising tenderness is all she's willing to give John Tucker, but sometimes, one night is all it takes for your entire life to change.
But the game just got a whole lot more complicated
Tucker believes being a team player is as important as being the star. On the ice, he's fine staying out of the spotlight, but when it comes to becoming a daddy at the age of twenty-two, he refuses to be a bench warmer. It doesn't hurt that the soon-to-be mother of his child is beautiful, whip-smart, and keeps him on his toes. The problem is, Sabrina's heart is locked up tight, and the fiery brunette is too stubborn to accept his help. If he wants a life with the woman of his dreams, he'll have to convince her that some goals can only be made with an assist.
***ARC received for an honest review***
My thoughts:
My goal, once upon a time, was to succeed. I didn't realize that success wasn't grades or scholarships or achievements, but the people I was lucky enough to have in my life.
In my opinion you can't finish The Score and not expect The Goal, for those who had read the third book in the series you know it gives a huge spoiler to what it's about to happen in the next book. I've been waiting for some time to know how Sabrina and Tucker's story will work out.
Thank you Jesus for creating this glorious creature and please Lord, make her not a lesbian.
I fell in love with Ellen Kennedy when I began reading Off-campus series, I don't know when it happened but it must have been at the very beginning, because I've read all the books in the series the moment they were published and all of them are amazing books, those kinds of love stories that are fun and easy and intense all at once. There are so many books about collage and athletes that when you hear about another plot like this you think you won't discover anything new. Maybe there are common subjects but Ellen's books aren't what you expect. They are a must read for those who want a good laugh and an ever after love story.
"My mother told me you were gorgeous and smart."
"And you said?"
"That I thought you were a lesbian and Mom replied that maybe you were bi."
Tucker is definitely the good boy in the pack and I didn't expect to see him with the bitch, well, Dean says she is heartless but maybe she isn't. I loved Tucker, it's hard not to, because he was there every time his friends needed support and he is such a sweet boy! This is a strange way to describe a hockey player but it's true. I also must say that Dean was an ass in this book too.
"This is fucked up. We shouldn't be allowed to leave the hospital with a kid. I've never even had a pet before."
Sabrina has all her life planed out and a boyfriend or God forbid a baby is not in the picture. But Tucker makes her doubt her decision and for the first time she might want to have a boyfriend. But how is this going to get in her way of finishing Harvard and becoming a lawyer? She has big confidence issues: her mother abandoned her, her Nana isn't the nicest person in the world and her stepdad is an asshole, so all she wants is to get away from all of this. But then she meets Tucker and she opens that part of her that is sweet and caring. And Tucker is the one who supports her at every turn, I don't know where you can find men like this or if they ever exist but if they de I want to order one.
So, you've applied to Harvard? That's what Kelly has told me." Kelly? Do I know a Kelly? "She means me, dear," Professor Gibson says with a gentle laugh. I blush. "Yes, sorry. I think of you as Prof."
I hope this isn't the last book in the series, because it would be very sad if it was. The world needs the fun that Ellen Kennedy brings into our life through the pack of hockey players from Briar University. I enjoyed every book in the Off-Campus Series and the expectations for The Goal were very high, but this book it's all that we expected and more. Sabrina and Tucker create another epic love story on Briar campus. And I want to share the pleasure of knowing them with as many of you as possible so please go to the library and buy this book!
Happy reading!