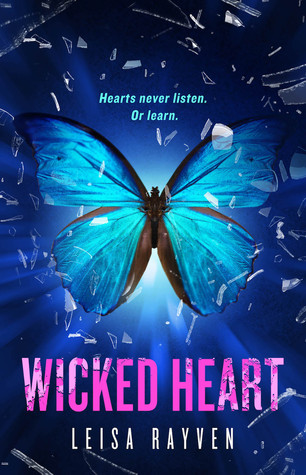 Liam Quinn is talented, gorgeous, and one of the biggest movie stars in the world.
He's also the only man Elissa Holt has ever truly loved.
After being out of her life for six years, he and his gorgeous fiancé are set to star in the new Broadway show Elissa is stage managing. The only trouble is, when late night rehearsals bring Elissa and Liam together, the line between what is and what could have been gets blurred, and one moment of weakness will lead to a scandal that echoes around the world.
Elissa knows that falling for Liam again would be a tragedy in the making, but as any good romantic will tell you, love doesn't always follow the script.
My review:
Leisa Rayven's books are addictive. I certainly looked like an addicted that had just got his fix when I began reading Wicked heart this morning. I don't know what is so special, because let me tell you this, her books are about broken people who struggle every single day to feel complete. You get the love story, but there is more than that. There is a certain brightness in seeing how one can be broken and then fixed by the same person who had shattered him in the first place. Love is a strange thing.
Liam says my name as if I'm some sort of mythical being he never expected to encounter.
Elissa gave up on love six years ago, when she broke her number one rule: no dating an actor. But the attraction between her and Liam is too powerful to resist, even more after two months of abstinence. Their chemistry is out of this world. I never got the part where the characters have an immediate connection, but Leisa cured me of this perception, because Liam and Elissa are attracted to each other from the first moment they see each other, and you can feel it through the pages. But she is the stage manager of the play in which he is the protagonist, so their relationship is strictly professional, for the most part. Until the day it ends. They spend an amazing night together before he moves to .L.A.
"Liam, I swear on the life of my hamster not to use you as sexual plaything." He looks crestfallen.
Eight months later, after she finally opened her heart, she has it smashed in the worst possible way.
Years ago I saw a magazine article that claimed everyone should have their heart broken at least once in order to become a better person. It said that the pain of losing someone you love will teach you about yourself. Develop your strength and resilience. Whoever wrote that article can go fuck themselves.
Now, six years had passed, and Elissa is again the stage manager for one of Liam's plays, only this time he plays along his fiancé, Hollywood sweetheart, Angel Bell. And no matter how much Elissa wants to hate Angel, she is just too sweet. Angel is like a little sister with big eyes and enormous heart, with a drop of naivety you can't stay mad at. How hard can it be to keep her hands off Liam? Well a lot harder than she thought.
"You said you didn't want to be one of those assholes who thinks he can have it all, but that's how you're acting. You can't have me and Angel. You just can't."
I loved Elissa and admired her for supporting all of Ethan's crap. I think she deserved her own happily ever after. Elissa is way more fun than I thought, it's so easy to fall for her sense of humor. She isn't the star on the stage, but the one who, from the backstage, makes the star shine and I find her job even more amazing, because a play is so much more than forty minutes and a couple of actors. It was amazing to discover how hard it really is to make everything work. She also has a strange obsession with cheese. It's funny how being compared with a type of cheese is the greatest compliment a girl is going to make.
Josh, Elissa's best friend is just spectacular. Leisa Rayven is the queen on male best friends. Elissa and Josh live together and he isn't even gay. At this point, Wicked Heart reminded me of Broken Juliet. Elissa and Josh's relationship is quite similar to the one that Cassie and Tristan have, but, at the same time, very different.
"I usually prefer girls who challenge me."
"You say 'challenge,' and I hear 'scare the crap out of.'"
"That reminds me—tell me again why you and I have never dated?"
Ethan and Cassie are epic and I expected to see a little more of them, but in order to let Elissa's story develop, these two cannot steal the show. One moment of their life is pictured in Wicked Heart and it's amazing. I'll let you guess what I'm talking about.
How long does it take to fall in love? A second? A week? A year? It's like asking how long it takes to fall asleep. Some people are gone as soon as their head hits the pillow. Others lie awake for hours, and it's only when their brain stops churning for a while that sleep sneaks in and drags them under. That's how I visualize people falling in love. Some people fall so easily, they seem reckless. They love freely and unashamed.
I didn't like that Elissa's story is quite similar to the one of Cassie, but the characters are so different that I let that pass, even if their reaction to certain situations are similar. Josh and Tristan, both the best friends of the protagonist, both amazing but in different ways. I think I liked Josh a little bit more. He is just that great. This is a story about the Hollywood dirt. We all see the big smiles and the luxury and believe everythig is amazing but there are skeletons in every corner. Starcrossed is for sure a drug and I can't get enough of.
You can give up on a lot of things in life and still be happy. You can decide that jogging is the work of the devil, or that the super-popular book everyone loves just isn't for you. Or you can let your gym membership keep ticking over every month without ever stepping foot inside the door. But the one thing you're absolutely not allowed to give up on is true love. When you find it, you should grab it with both hands and never let it go, because although it might not always be easy or convenient, it's worth it.