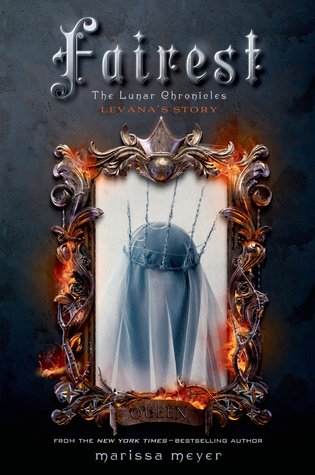 In this stunning bridge book between Cress and Winter in the bestselling Lunar Chronicles, Queen Levana's story is finally told.
Who is the fairest of them all?
Fans of the Lunar Chronicles know Queen Levana as a ruler who uses her "glamour" to gain power. But long before she crossed paths with Cinder, Scarlet, and Cress, Levana lived a very different story – a story that has never been told . . . until now.
Marissa Meyer spins yet another unforgettable tale about love and war, deceit and death. This extraordinary book includes full-color art and an excerpt from Winter, the next book in the Lunar Chronicles series.
In primul rand, multumesc librariei online Book Express pentru aceasta carte. Pe site-ul lor puteti gasi o gama variata de titluri in engleza.
Părerea mea:
Mi-a fost teamă să încep Fairest. Și nu pentru că aveam impresia că n-o să-mi placă. De fapt, eram convinsă că n-o să-mi placă, adică n-o să-mi placă evenimentele povestite, nu cartea în sine, pentru că, în accepțiunea mea, Levana i-a întrecut pe Darth Vader și pe Lordul Cap de Mort și a ajuns singurul personaj negativ care-mi dă coșmaruri.
"I know you must be hurting now, but don't give up hope on future happiness, and all the good things that are still to come for you."
Am sperat să exagerez și să descopăr că Levana este doar un anti-erou, care are motive întemeiate pentru toate răutățile și cruzimile pe care le face. Motivul există, undeva, ascuns în trauma copilăriei sale, însă acțiunile ei de mai târziu reflectă numai dorința ei nestăvilită de a avea bunurile altora, ba chiar devine obsedată de ele: frumusețea soției bărbatului pe care crede că-l iubește, puterea surorii ei, tronul regatului Luna, care îi aparține, de drept, nepoatei ei, Prințesa Selene , și, într-un final, Pământul. Pentru a obține toate acestea, Levana înșeală, manipulează, dezamăgește, schilodește și ucide fără urmă de remușcare. Este un personaj orgolios, răzbunător, narcisist, de o răutate inumană, dusă la extrem.
M-am așteptat la o poveste de dragoste, dar am găsit numai câteva urme vagi de sentimente denaturate. Evret pare a fi personajul principal masculin, dar nu este. În realitate, singurul personaj principal al cărții este Levana, restul fiind numai pioni, care îi țes calea spre izbândă și plătesc prețul nefericirii ei.
"Why is it always a prince?" asked Winter. "Why isn't she ever saved by a top-secret spy? Or a soldier? Or a … a poor farm boy, even?"
"I don't know. That's just how the story was written." Evret brushed back a curl of Winter's hair. "If you don't like it, we'll make up a different story tomorrow night. You can have whoever you want rescue the princess."
"A doctor? Well—sure. Why not?"
"Jacin said he wants to grow up to be a doctor."
"Ah. Well, that's a very good job, one that saves more than just princesses."
"Maybe the princess can save herself."
"That sounds like a pretty good story too."
Undeva, în plan terț, cunoaștem o Selena copil și aflăm mai multe despre mama acesteia, care nu se deosebește cu mult de sora ei mai mică, Levana. O întâlnim și pe Winter, fiica vitregă a Levanei, și pe Jacin Clay. Aceștia din urmă sunt protagoniștii celui de-al patrulea volum al seriei, care încheie această poveste nemaipomenită, și pe care abia aștept să îl citesc.
Fairest va rămâne pentru mine cea mai înfiorătoare nuvelă pe care am citit-o vreodată. A fost o adevărată aventură emoțională, de la prima și până la ultima pagină. Pentru cei care au citit această serie, Fairest este un must-read. Pentru cei care nu au citit-o, întreaga serie este un MUST-READ, iar eu vă recomand să citiți nuvela în ordinea apariției, adică după terminarea romanului Cress, chiar dacă acțiunea din Fairest are loc înainte de evenimentele din Cinder.
"Love is a conquest! Love is war!"
Lectură plăcută!