When a one-night stand turns into an online photo scandal, Sophie Tucker and Luke McGraw become campus celebrities overnight for all the wrong reasons.
Sophie Tucker can't wait to start her freshman year of college—she has a full scholarship to her dream school and her sights set on landing a coveted staff writer position on the college newspaper. But when a scandalous photo from a one night stand she barely remembers is posted on The Score List, a new tabloid-style gossip site the campus is buzzing about, Sophie realizes her freshman year isn't going to be what she imagined. As more photos are posted, Sophie decides to use her journalistic prowess to take down the anonymous person behind the site.
Luke McGraw is that guy—the vice president of his fraternity, the online editor of the school newspaper, and the one every girl wants to date. When a photo of Sophie, the girl he hooked up with the night before classes started and can't get out of his head, shows up on The Score List, he knows that he has to find out who is behind the site—both to avenge Sophie, and to save the reputation of his fraternity.
When Sophie and Luke realize they're both investigating, they decide to team up. But focusing on the investigation instead of each other proves difficult, especially when neither of them are sure the other can be trusted.
In a story full of the scandal, mystery, intrigue, friendship, and cheeky, sexy romance, Making Headlines channels Veronica Mars and Greek, in the companion novel to Taking Flight.
I close my computer and put it and my books back in my bag. Luke does the same and we head out the doors and into the brisk air where the sun is starting to peek up from the horizon, tingeing the sky pink and yellow.
"Wow," I say, admiring the view. "This is incredible." My breath comes out in little white puffs. I blow a few puffs, just to amuse myself.
"Dork," Luke says, wrapping his arms around my shoulders from behind. I fit perfectly beneath his chin and revel at not just the beautiful sunrise, but how amazing it feels to be in his arms, our bodies perfectly tucked into each other's. I reach one hand up and wrap it around his wrist, savoring the warmth of his skin compared to the coolness of mine.
"You're hands are freezing," he says.
"Welcome to Winter Sophie."
"It's not winter yet. Are you cold-blooded or something?" he asks, eyeing me.
"I'm always cold."
He pulls his fleece off and hands it to me. "Put this on over your sweatshirt."
"But now you're going to freeze."
"I'll be fine," he says. "Just put on the jacket."
I slip it on and, though I feel ridiculous in both a sweatshirt and fleece jacket, it is much warmer. As we walk back toward our corner of campus, he takes my hand in his, giving me even more of his heat. When we get to the Delta Tau house, I pause and he says, "You know by now that I'm walking you home."
I smile and silently acquiesce, continuing down the street to my dorm. When we get there he pulls me against him into a hug.
"Go get some sleep," he says, kissing the top of my head. I nuzzle into him, seriously considering inviting him up to my room. Not for sexy times, but because he is so warm and feels so good against me right now.
As if he can read my mind, he says, "I'm going to head back to the house. Call me when you get up, okay?"
"Okay," I say, looking up at him.
"I'm really glad I got to watch the sun rise with you," he says, his voice rough.
"Me, too."
"Now go to bed," he says. "You deserve it."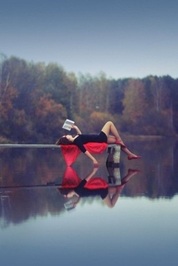 Erin Brown is a writer, Whedonite, Whovian, yogi, HGTV addict, and connoisseur of The CW's TV line-up. She was born and raised in Arkansas, lived in New York City for five years, and recently moved to Singapore, where she lives on the beach, which is completely wasted on her because she is a ginger and the sun is not her friend. She is the author of Taking Flight and Making Headlines: A Taking Flight Novel. You can follow her on Twitter @erinbrownwrites.
a Rafflecopter giveaway