Max Riley is the man of your dreams. Or at least he will be, for a price.
As his alter-ego Mister Romance, Max is a drop-dead gorgeous escort who makes romantic fantasies come to life. No sex, just swoon-worthy dates to die for, and the cream of New York's socialites can't get enough. Whether they want a dominating billionaire, bad boy with a heart of gold, hot geek, sexy biker, or best friend who loves them from afar, Max can make it all happen, but he's careful to keep his real identity a secret.
Enter investigative journalist Eden Tate. Having caught wind of the urban legend of Mister Romance from a lovestruck client, Eden is determined to publish a scathing expose on Max and his ability to swindle lonely society women out of their fortunes.
Desperate to protect his anonymity and his clients, Max challenges Eden to give him three dates. If she doesn't fall in love with him, she can run her story with his blessing. If she succumbs to his charms, the story dies.
Cynical Eden has no doubt she can resist his fake romance personas, but when the real Max admits he's falling for her, she has to decide if the professional liar is telling the truth, or if the passionate man with the mysterious past is just one more character designed to con her out of her career-making story.
Don't miss this sizzling new standalone from the internationally best selling author of Bad Romeo, Broken Juliet, and Wicked Heart.

I fell in love with Leisa Rayven a while ago. Bad Romeo is still one of my favorite books ever. It's a lot more complicated to write about an author who has a special place in your reading list. You want to do them justice and at the same time to stay true to the story.
"
One day you'll meet a guy who will change your mind about men, and when that happens I'm going to laugh, and gloat, and probably make a laughy-gloaty YouTube video to commemorate the occasion." "Doubtful."
We all have great expectations after reading Bad Romeo, but Mister romance is nothing like it. Or, for me it wasn't. First of all Mister romance is a funny book. It also has an emotional feel, but I smiled a lot when I read this book and my eyes didn't lose a tear. Max and Eden's story is full of good jokes, teasing, stubbornness, denial and intense love.
"Toby, first of all, you don't 'do' crime; you commit crime, and the only person committing anything this morning will be me. You're just my distraction. And second of all, never in the history of the world has any criminal thought to themselves, 'Hmmm, you know what this felony calls for? A nice camo cardigan.' Where on earth did you even find that thing?"
I don't know about you, but I figure I could be an amazing detective, because I knew who Max was since the beginning. And i agree with Eden, Max is too self-confident, but Eden needed a hard lesson about love too. I think these two were made for each other. Well, it is a romantic book, what could you expect.
"I'm saying that everyone is someone's monster, and I'm no exception."
Eden Tate loves her sister Asha, and her grandmother, therefore she doesn't need anyone else. Because being single is for the best, right? You use men and don't give them the opportunity to use you and hurt you. That's Eden's motto: don't open up because you will get hurt.
Asha is a romantic and tries her best to make Eden at least try to have a relationship. When Eden finds out about this Mister romance, an escort that doesn't give sex for money, but makes women feel confident about themselves for cash, she knows that maybe this is the opportunity she needs to shine like a reporter. But Max Riley has an interesting proposition: three dates, if she falls for him she'll give up her story, if she doesn't he'll give her his clients list. How hard can it be fora woman who doesn'tbelieve in love not to fall in love for the first time?
"You believe I'd hurt you? I'm insulted. Do you think I'm some kind of thug?" "Of course not. I'm sure you're a perfectly nice psychopath. But FYI, if you take a single step toward me right now, I'll scream so loudly they'll hear me back in Manhattan."
Both Max and Eden pissed me off. He is too confident and has some cold demands and she is too skeptic. I think he falls in love way too fast. At least Eden is constant, she doesn't believe in love even when she is in love.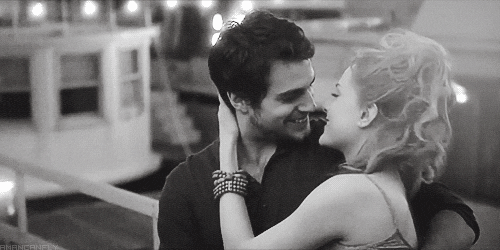 "Sweetheart, I'm a person who cries at everything, so I've learned to cry at nothing."
While both Max and Eden have emotional life stories it didn't make me cry. I felt sad for Max, i could feel his torment somehow, but Eden left me cold. As I said, this story is funny more than it is emotional. It has everything to make it a great book, I don't regret reading it for a secound, but I can't say that I would read it again, either. I recomand it for all those who love Leisa's books and for those who miss a good laugh. Books tend to be very tragic these days and we all need to smile more.
"You should be. If you'd captured it on camera, you could have made me an internet sensation. How dare you deprive me my fifteen minutes of public humiliation?"