Filmul: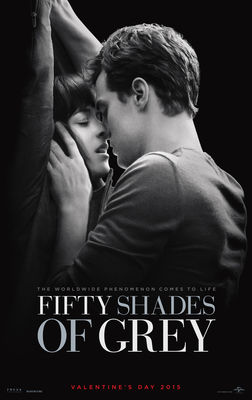 Durata: 124 minute
Povestea filmului - inspirat de bestseller-ul mondial al autoarei britanice Erika Leonard, care semnează cu pseudonimul E.L. James - îi are în centru pe studenta Anastasia Steele şi un cuceritor şi misterios om de afaceri, Christian Grey, între care se leagă o relaţie plină de erotism, dar şi secrete întunecate.
Acum in Cinematografe!!!


Melodia:
Cartea:
Infernul lui Gabriel
Titlul original: Gabriel's Inferno
This edition published by arrangement with the Berkley Publishing Group, a member of Penguin Group USA, a Penguin Random House Company
Limba originală: engleză
Traducere de: Mihaela Doagă
Anul apariţiei: 2014
Format: 130 x 200 mm, paperback cu clape
Nr. de pagini: 704
ISBN: 978-606-719-022-9
Enigmatic şi sexy, profesorul Gabriel Emerson este un foarte respectat specialist în Dante în timpul zilei şi un adept al plăcerilor lipsite de inhibiţii, în timpul nopţii.
Se foloseşte de şarmul său pentru a-şi satisface orice capriciu, dar este torturat de un trecut întunecat şi măcinat de convingerea profundă că nu mai are nicio speranţă de mântuire.
Când fermecătoarea şi inocenta Julia Mitchell se înscrie la cursul său, atracţia pe care o simte faţă de ea nu numai că îi periclitează cariera, dar îl trimite într-o călătorie în care trecutul şi prezentul se ciocnesc.
O provocatoare explorare a seducţiei şi a iubirii interzise.
"Julia respira răsuflarea lui, simţind-o fierbinte şi umedă. El era aerul ei. Nu se putea opri din sărutat îndeajuns de mult pentru a respira cu adevărat şi începu s-o ia cu ameţeală. Ceea ce nu făcea decât să intensifice senzaţia pe care i-o trezeau buzele lui, aşa că nu încercă să se împotrivească. Se abandonă senzaţiei..."
Infernul lui Gabriel este o poveste plină de pasiune a evadării omului din iadul personal, în încercarea de a dobândi imposibilul: izbăvirea şi dragostea.
Sylvain Reynard
a fost semifinalist Goodreads Choice Awards la categoria Best Author în 2011 şi 2012. Romanul Infernul lui Gabriel a fost semifinalist la categoria Best Romance în 2011 în cadrul aceleiaşi competiţii. Trilogia din care face parte Infernul lui Gabriel figurează pe lista de bestselleruri New York Times şi USA Today.
Sylvain Reynard mărturiseşte că e interesat de felul în care literatura ne poate ajuta să explorăm aspectele condiţiei umane — în special suferinţa, sexul, dragostea, credinţa şi izbăvirea.