Mr. Black
We all have someone who crossed our path and fundamentally changed us. That one person who blew through our lives, their presence forever stamped on our psyche. They linger in our thoughts, in our hearts, and in the decisions we make. A soul crusher or a dream maker, depending on the perspective.
My person is MISTER BLACK.
I didn't know him by that name when I first met him.
I didn't know him at all, but the impression he left behind was just as powerful as the name I call him today.
He is Black: a deadly enforcer and masterful seducer.
I am Red: a justice bleeder and willing participant.
Together we are passion. Colors colliding through each other's lives.
When our secrets converge in a passionate encounter,
stepping out of the shadows just might be worth the risk.
NOTE: Mister Black is part 1 of a serial and is approximately 125 print pages.
Scarlett Red
Mister Black swept in and out of my life like a tornado, leaving me twisted up and forever changed in his wake.
And now that my life is finally back on track, I need to move on, despite the many reminders of our time together.
But our pasts are only as far away as the shadows we hide behind, and sometimes those shadows grow darker, converging on the present in the most insidious way.
He is Black: a stealthy hunter and rainbow master.
I am Red: a truth seeker and desire keeper.
Together we are obsession. Passionate colors destined to be drawn together.
NOTE: SCARLETT RED is meant for readers 18+ due to mature content. This is part 2 of the IN THE SHADOWS serial and is a novel-length book at 273 print pages. You should read part 1, MISTER BLACK, before reading SCARLETT RED.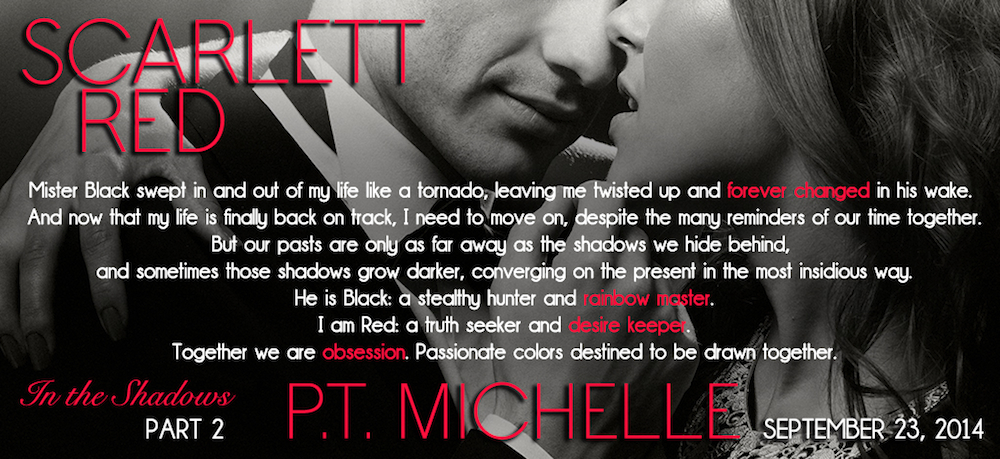 My Thoughts
This series is brilliant. I honestly didn't expect to like it so much.
Sebastian and Talia met the night her life changed forever. Those few minutes with him give her some kind of purpose to fight and get over the tragedy.
When they meet again, 8 years later, none of them has any idea who the other is but it's like they can't stay away from each other.
One night of passion will leave an even bigger imprint on Talia than that brief meeting in the past, especially when she realizes who Mr.Black really is.
The first book is a little bit of an introduction. It's where we meet the characters and fall in love with them.
The story is complicated because nothing is what it seems, nothing is simple.
It gets even more interesting in Scarlett Red.
Three more years have passed and now, Talia, is a successful writer who's just got her heart broken by her fiancé.
What starts as a trip to a resort where she can rest and recharge turns into a dangerous game, which might see her dead in the end.
Many things have changed in Talia's life during the past eleven years but one thing has remained the same, a constant, maybe even grown stronger – her feelings for Sebastian.
She chose not to meet him three years back and she might never do so again but she never imagined she can be so attracted to anyone else, her ex fiancé included, until she sets eyes on Bash.
He's everywhere she turns and takes it upon himself to try to find out who might want to hurt her.
Another masked party and three clues.
She never expected to see him again and he never understood why she stood him up.
Talia and Sebastian have a lot of work to do to set things right but it's not easy. While the passion and the attraction are still there, they both have changed. And there's still the threat to her life.
This second installment was full with twists and turns I never saw coming and I cannot wait until I get my hands on the third installment since Scarlett ended in a cliffhanger.
If you're looking for strong, determined characters, action, intrigue passion and mystery this is the series for you.
Since my review covers both Mr. Black and Scarlett Red, so does the rating.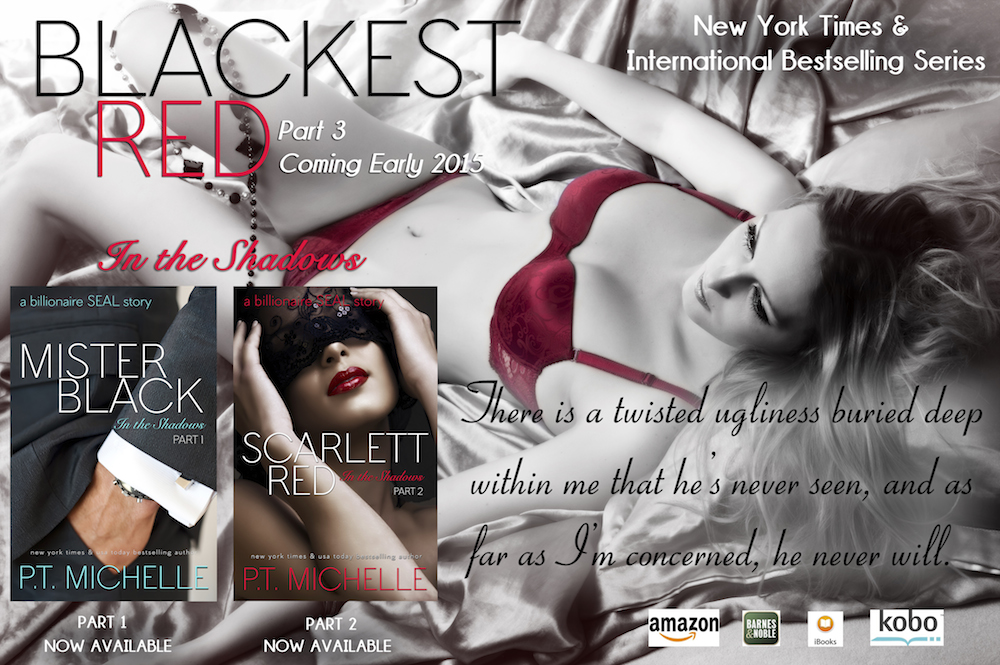 P.T. Michelle is the NEW YORK TIMES, USA TODAY, and International Bestselling author of the New Adult/Contemporary romance serial IN THE SHADOWS, the YA/New Adult crossover series BRIGHTEST KIND OF DARKNESS, and the romance series: BAD IN BOOTS, KENDRIAN VAMPIRES and SCIONS (listed under Patrice Michelle). She keeps a spiral notepad with her at all times, even on her nightstand. When P.T. isn't writing, she can usually be found reading or taking pictures of landscapes, sunsets and anything beautiful or odd in nature