Paperback, 416 pages
Published May 13th 2014 by Gallery Books
One-night stands are supposed to be with someone convenient, or wickedly persuasive, or regrettable. They aren't supposed to be with someone like him.
But after a crazy Vegas weekend celebrating her college graduation—and terrified of the future path she knows is a cop-out—Mia Holland makes the wildest decision of her life: follow Ansel Guillaume—her sweet, filthy fling—to France for the summer and just…play.
When feelings begin to develop behind the provocative roles they take on, and their temporary masquerade adventures begin to feel real, Mia will have to decide if she belongs in the life she left because it was all wrong, or in the strange new one that seems worlds away.
THOUGHTS
Well… I LOVED IT!!! I loved it so, so much!
I've missed reading a story like this: sweet, fun and careless at the beginning, but transforming into something deeper as the pages turn. Not into something too deep, though. The angst is there, but very well concealed by the other, lighter parts of the plot. This was a big plus for me.
I don't want to give up anything more about the plot, because this book has a very spoilerific start and it's highly probable to slip in some tiny detail that will clue you in. You must read it for yourself to figure out how fun it is.
I could barely see any filth in this boy *laughing knowingly to myself* he's nothing but sweetness! And he will melt your heart with the way he acts.
Although I found her a little bit too insecure, hesitating on things that are way past the stage of insecurity, I also liked Mia. I must admit she had a lot of courage to act on what she felt. I loved her and Ansel together! They are sweet, delicate (in a way of speaking), perfect!
The supporting characters, mostly the girls, were fresh and fun, spicing up the already spicy story. It would have been great to find out more about the boys and see them interact some more. There's a large part of the book from which they're missing, but I'm sure we'll get know them better in the next books!
The writing style was enjoyable. I've read Beautiful Bastard and like it a lot, but might I say that not as much as this one? There, I've said it. Must be the Paris feeling.
All in all, Sweet Filthy Boy is a great start of a new series and I can't wait to read the next installment.
Happy reading!
BUY LINKS
Click pe imagine pentru a comanda
Lauren Billings
(but everyone calls her Lo) has a Ph.D. in neuroscience and before she made writing her full-time job, would spend her days doing nerdy research-type things wearing a lab coat and goggles. She is silly Mommy to two littles, wife to one mountain biking homebrewing scientist, bestie to a shoe-stealer, and an unabashed lover of YA and romance.
Christina Hobbs
(but you'll always hear Lo call her PQ) used to spend her days in a junior high counseling office surrounded by teenagers. Married to the cutest boy in school, she has a thirteen year old daughter, is an unapologetic lover of boy bands and glitter, and also likes to steal Lo's shoes.
You can follow their shenanigans at:
For official information about their books, events, interviews, movie news and more, follow @beautifulbastrd.
A full set of the Beautiful Series books in print. INTERNATIONAL. The prize will be sent by Gallery Books. Fill in the Rafflecopter below for your chance to win.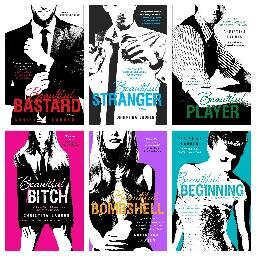 a Rafflecopter giveaway