There is need. And then there is Fate...




Being destined to become some kind of supernatural electrical outlet isn't exactly awesome--especially when Alexandria's "other half" is everywhere she goes. Seth's in her training room, outside her classes, and keeps showing up in her bedroom--so not cool. Their connection does have some benefits, like staving off her nightmares of the tragic showdown with her mother, but it has no effect on what Alex feels for the forbidden, pure-blooded Aiden. Or what he will do--and sacrifice--for her.




When daimons infiltrate the Covenants and attack students, the gods send furies--lesser gods determined to eradicate any threat to the Covenants and to the gods, and that includes the Apollyon... and Alex. And if that and hordes of aether-sucking monsters didn't blow bad enough, a mysterious threat seems willing to do anything to neutralize Seth, even if that means forcing Alex into servitude... or killing her.




When the gods are involved, some decisions can never, ever be undone.
My thoughts: I first found out about an awesome new YA author named Jennifer L. Armentrout because of the Half-Blood cover. It took me some time to get my hands on it, though. I actually read it out of envy, can you believe that? *lol* A friend o mine received it as a gift so I read her copy as soon as I saw it.
Pure, on the other hand, it's a different story. I pre-ordered it eons ago and read it as soon as I unwrapped it. Yay! So blue and shiny! Now, after reading ALL of Jennifer's books that are out (and Onyx which I received as an early ARC copy), I can totally say she rocks! Or maybe she's like…the third Apollyon of our generation.
I finished Pure two weeks ago - after re-reading Daimon and Half-Blood, of course - but, for some reason I needed a little bit of time to let it sink in. In fact, I'm fooling myself right now, because I know exactly the reason for that break: I can't get it out of my head! Simple.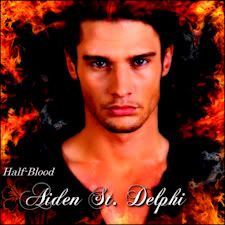 The second installment of The Covenant Series was better than the first, which says something! You know I don't give five stars easily.
Alex is one of my all time favorite feminine characters (second to MacKaila Lane to be precise). Her story kept me on the edge of my seat all the time!
I was Team Aiden after finishing Half-Blood. I loved his attitude, his way of knowing exactly when to push things and when to stop…The way he always shows Alex exactly what he feels, but she just can't figure it out. My heart ached for them every time they shared a look, a word, a rare touch. They're just perfect. I must say I still have my fingers crossed for Aiden after finishing Pure, and I hope to see more of him in Deity. Not that he's absent in this one, but I can't get enough of him.
"Ever since I've met you, I've wanted to break every rule." Aiden turned away, the muscles in his neck tensing. He sighed. "You'll become the center of someone's world one day. And he'll be the luckiest son of a bitch on this earth."
"No one is like you, Alex."
I grinned. "I'll take that as a compliment."
"It is." He nudged me again, and my grin gew into another ludicrous smile- the kind Caleb gave Olivia when they weren't tearing each other's heads off. "You're incredibly intelligent, Alex. Funny and..."
"Pretty?"
"No, not pretty."
"Cute?"
"No."
I frowned. "Well, then."
Aiden's laugh sent shivers through me. "I was going to say 'stunning.' You're stunningly beautiful."
But Seth! Well, he's coming close behind! He's always in the right place at the right time, always there, helping and comforting Alex every time she needs it. Besides, he's funny as Hell! I don't know what kind of feelings he has for her, but I think they're different from Aiden's, at least I hope they are. A lot of my favorite quotes from Pure are his, because he has a lot of what I want to see in a character: good looks, strong personality and humor.
"So... uh, you're a Team Edward kind of guy?"
He snorted. "No. I'm Team James or Team Tyler's Van, but apparently neither of them won by the look of it. She's still alive."
"Seth threw me a mischievous grin. "I can't have Marcus just walking in on us. What if I want to snuggle on these cold New York nights?" My frown increased. "We don't snuggle." He dropped his arm over my shoulder, and the scent of mint and something wild tickled my nose. "How about we cuddle?" "We don't do that either." "But you're my cuddle bunny. My little Apollyon cuddle—" I punched him in the side."
"I love your bed." I rolled onto my stomach, smiling.
"I love it so much I'd marry it if I could."
Seth laughed out loud. "You'd marry my bed?"
"Mmm."
I'm the kind of reader who keeps his choices until the end, I never switch teams in the middle of a series and that won't happen here either, but I wish Seth a happy end as well.
Jenn's books amaze me more and more every time I turn the page! I swear I'll read ANYTHING she'll ever write!



Pure left me with a bunch of new questions and no answer, but I kind of expected that. Now I'm sad because I have to wait a lot for the third installment of The Covenant.

The action, the fighting scenes, Alex, Aiden and Seth, I swear you'll love them all! If you haven't read this series yet, make sure you do it soon, because it's the best young adult ever! No book, no matter how advertised or praised, can compare with Jennifer's writing and I'm sure many of you would think the same.