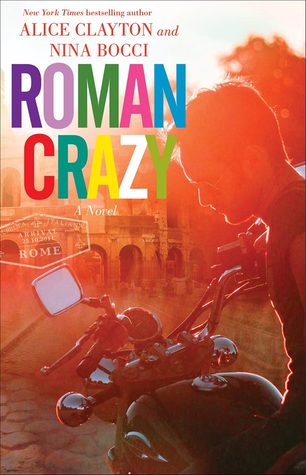 Avery Bardot steps off the plane in Rome, looking for a fresh start. She's left behind a soon-to-be ex-husband in Boston and plans to spend the summer with her best friend Daisy, licking her wounds—and perhaps a gelato or two. But when her American-expat friend throws her a welcome party on her first night, Avery's thrown for a loop when she sees a man she never thought she'd see again: Italian architect Marcello Bianchi.
Marcello was the man—the one who got away. And now her past is colliding with her present, a present where she should be mourning the loss of her marriage and—hey, that fettuccine is delicious! And so is Marcello…
Slipping easily into the good life of summertime in Rome, Avery spends her days exploring a city that makes art historians swoon, and her nights swooning over her unexpected what was old is new again romance. It's heady, it's fevered, it's wanton, and it's crazy. But could this really be her new life? Or is it just a temporary reprieve before returning to the land of twin-set cardigans and crustless sandwiches?
A celebration of great friendship, passionate romance, and wonderful food, Roman Crazy is a lighthearted story of second chances and living life to the fullest.
***ARC received for an honest review***
I am in love with Alice Clayton's writing style so I couldn't wait to read Roman Crazy and the fact that Nina Bocci is a co-author is a huge bonus. Also, Italy is one of my favorite countries, I have beautiful memories from my trip there and Rome is definitely the place to escape and start new. So Roman Crazy was a must read for me.
After abandoning her dream to support her husband's, Avery is devastated when she catches him with his secretary. So cliché! But most of all she is sad and jealous because all the passion has disappeared from her marriage and she had lost her way. So when her best friend invites her to Rome she can't refuse. Rome is everything she has expected: beautiful and liberating. And maybe here she can find a second chance at happiness. But what was meant to be a road trip to the future brings her back to the past, a past she hadn't told a soul about.
"It wasn't love or lust, but something we both recognized as a possibility of something. It was so pure, so uninhibited … We just threw ourselves into it. These moments that were little pockets of perfection. It was like nothing else mattered. Just us."
She and Marcello have met in Barcelona, when she was in college, and in a relationship with Daniel, her future ex-husband. And their time together was one of the most beautiful moments in Avery life. For a while she wanted to leave all behind and begin a new life with Marcello, but then life happened. When their steps bring them together once again it's time for apologies. Maybe they can still be friends or maybe this is their second chance.
"Christ, Daisy, keep up! I slept with your friend Marcello in Barcelona when I was in college!"
Usually people are scared that if they sacrifice too much for their partner and the relationship doesn't work, in the end they are left with nothing. For me this is one of the most important lessons I've learned from Roman Crazy. That if we compromise and always take the middle path we can't lose ourselves, but we can't have separate lives when we are in a relationship. It's hard but it's necessity. Avery lost herself before she had big dreams and now she has lost her husband and her dreams somewhere along the way. Marcello brings back memories of a time when she was living her dream. And then a job opportunity emerges and she can do what she always wanted: to be a restaurateur. Maybe Rome is the best choice she could have made. Will she choose Marcello this time?
"But why didn't you ever say anything about it?"
"Because I assumed you would choose me."
I loved Avery. She is strong and funny, a little bit afraid to take risks and insecure sometimes, but it's easy to like her. Marcello on the other hand is more of a mystery, the wild affair. Years ago Avery hasn't chosen choose him, now she has a second chance. But most of all, I loved Daisy, Avery's best friend. She is amazing, living her dream, always supportive and so much fun to be around! Daniel, well, Daniel isn't even the bad guy. He is somehow lost too and he had a lot of bad examples to follow.
"We knew from the beginning that we were on borrowed time, but for those four months I was the real me. He let me fly."
Roman crazy is a great book for an Autumn day. It's fun, easy and inspiring. I enjoyed it and I can't wait for the next book in the series.
Happy reading!