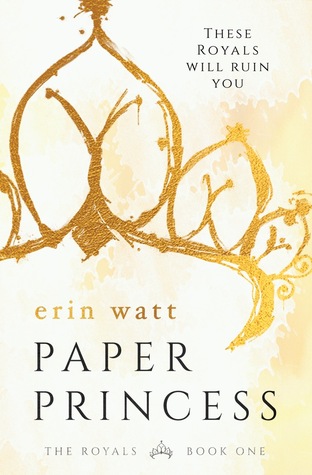 From strip clubs and truck stops to southern coast mansions and prep schools, one girl tries to stay true to herself.
These Royals will ruin you…
Ella Harper is a survivor—a pragmatic optimist. She's spent her whole life moving from town to town with her flighty mother, struggling to make ends meet and believing that someday she'll climb out of the gutter. After her mother's death, Ella is truly alone.
Until Callum Royal appears, plucking Ella out of poverty and tossing her into his posh mansion among his five sons who all hate her. Each Royal boy is more magnetic than the last, but none as captivating as Reed Royal, the boy who is determined to send her back to the slums she came from.
Reed doesn't want her. He says she doesn't belong with the Royals.
Wealth. Excess. Deception. It's like nothing Ella has ever experienced, and if she's going to survive her time in the Royal palace, she'll need to learn to issue her own Royal decrees.
Oh my God, Paper Princess has literally messed up with my head, it was that good. It's just amazing how much you can feel while reading it, how much some fictional characters can touch you. I loved it from the first to the last page. OK, I was lied, I hated the last page, but I'll let you find out why, because it isn't fair that I need a shrink to get over it and all the outside world can go like nothing happened.
"No one wants to be ruined. We all want to be saved."
Ella Harper had a hard life and when I say hard I mean heavy metal hard. Her mother got from a man to another, each one of them a worst choice than the last. And well she's also a stripper. But she loved her and they were coping with the situation. But then she has cancer and Ella must get the money to pay the hospital bills and when her mother dies she has to pay for a rough above her head and food in the fridge. She knows that her only chance is to finish high school and go to college. A diploma is what she needs for a better life.
"Shame and principles are for people who don't have to worry about the little things, like how much can I buy for a dollar to feed myself all day or do I pay my mom's medical bills or buy some weed so she can go for an hour without pain. Shame is a luxury."
Her father, well his name is Steve and she let her mother a nice watch. That's all Ella knows about him until his best friend comes to her school saying that he's her legal guardian because her father is also dead. Ella doesn't have much of a choice. But living in the Royal's house isn't easy. With five young boys that want to see her gone and are willing to do anything to see that happen.
I've experienced real life and it sucks. I wouldn't force real life on the people I love the most. I'd try to protect them from that.
I loved Ella. She is sincere, she tells you the truth in the face and she is funny while doing it. She has a nice development in the book, she adjusts in every way she can. A big house, lots of money, a private school, things may seem amazing but the truth is in her old life people were treating her better and she always knew what to expect. Now everyone seems to be the enemy and standing tall in front of them is exhausting.
"Douchetard sounds like a word, too, but I'm pretty sure you won't find it in the dictionary."
The Royal boys are screwed up, all of them. Gideon left for college so he doesn't live with them anymore. I can't wait to read his story. Reed, well he is gorgeous, the leader of the Royal brotherhood and a general pain in the ass. Ella can't stop falling for him even when everyone tells her that he is going to break her heart.
"Oh my God. Was that a laugh? Reed Royal laughs, folks. Someone call the Vatican because an honest-to-God miracle has occurred."
Easton follows in his mother's steps and gets from one addiction to the other. He's the nicest one of them. He's fun but obviously he has his own demons. The twins, Sawyer and Sebastian, what's a family without a set of twins? They seem to be the most normal people in the house, but who knows?
"We males have very fragile egos. It's best to always compliment us so that we don't turn into psychopaths."
This book makes you feel so strong and then it drops you and lets you fall with so many questions and so little patience until the nest book. It's a must read. The characters are so real, their reactions normal, you think you are watching your neighbor's life through a window.
Happy reading!