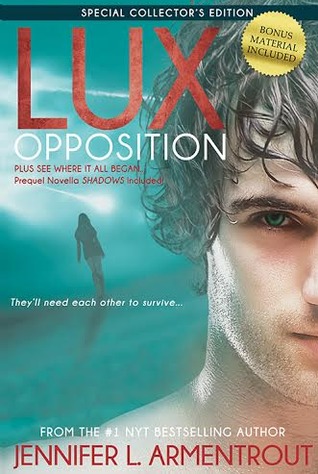 Katy knows the world changed the night the Luxen came.
She can't believe Daemon welcomed his race or stood by as his kind threatened to obliterate every last human and hybrid on Earth. But the lines between good and bad have blurred, and love has become an emotion that could destroy her—could destroy them all.
Daemon will do anything to save those he loves, even if it means betrayal.
They must team with an unlikely enemy if there is any chance of surviving the invasion. But when it quickly becomes impossible to tell friend from foe, and the world is crumbling around them, they may lose everything— even what they cherish most—to ensure the survival of their friends…and mankind.
War has come to Earth. And no matter the outcome, the future will never be the same for those left standing.
Părerea mea:


În primul rând, mulțumesc librăriei online Book Express pentru această carte. Pe site-ul lor puteți găsi o gamă variată de titluri în engleză.
Primul volum al seriei Lux a însemnat pentru mine și primul contact cu stilul lui Jennifer L Armentrout, cea care mi-a devenit, rapid, una din cele mai îndrăgite autoare. Seria m-a captivat de la primele pagini, am citit-o dintr-o suflare și am așteptat restul volumelor, precomandându-le imediat ce era posibil.
Băiatul rău, dar protector față de cei dragi și fata cuminte, mare iubitoare de cărți și blogger, a fost o poveste care le-a mers la suflet tuturor fetelor care au acest hobby, printre care și eu.
Deși faptul că seria LUX a ajuns la final mi-a creat un sentiment de nostalgie, știu că e momentul încheierii. Amândoi au suferit pierderi și transformări. De la ură la prietenie și iubire, am urmărit cu nesaț aventura lor, parte amuzantă, parte sfâșietoare.
Toți fanii lui Jennifer știu că finalurile cărților sale nu sunt doar un simplu happy ever after și că, întotdeauna, autoarea ne oferă mai mult. Așa se întâmplă și cu Opposition. Finalul epic al acestei serii este plin de iubire, aventură, zâmbete, dar și lacrimi și pierderi la care nu te aștepți.
Opposition continuă povestea exact de unde a fost întreruptă în Origin. Daemon și Katy trebuie să treacă peste ultimul și cel mai mare obstacol din calea fericirii lor, dar, uneori, nici cei mai puternici nu pot supraviețui anumitor încercări. Luxenii au invadat Pământul și vor să îl cucerească, distrugând toți oamenii. Daemon, Dawson și Dee au trecut de partea lor, iar Katy și Beth nu pot înțelege cum e posibil ca toți cei pe care ii iubesc să le părăsească, așa că încearcă să-și păstreze speranța. Dar când Katy este răpită de Luxen și adevărul despre Beth iese la iveală, lucrurile se complică și mai mult. Orașele cad unul câte unul și tot ce rămâne în urmă este distrugere, singura metodă de a salva omenirea fiind una care părea imposibilă în cărțile precedente și care poate avea ca rezultat și mai multă distrugere.
Am simțit că Opposition este mai mult decât povestea lui Daemon și Katy, că este a tuturor personajelor pe care le-am cunoscut și îndrăgit pe parcursul celor cinci volume. Origin ne-a dezvăluit un lucru surprinzător despre Beth și Dawson, iar în acest volum aflăm și deznodământul poveștii lor, dar și a relației dintre Dee și Archer, care a evoluat foarte mult în cartea anterioară, acum având șansa de a afla dacă Dee și-a găsit în sfârșit perechea, după mai multe încercări nereușite.
Am avut multe așteptări de la Opposition, știind că o serie bună poate fi distrusă de un final nepotrivit, dar nu m-a dezamăgit. Am simțit că întreaga serie m-a pregătit pentru acest moment, al invaziei și al luptei pentru salvarea Pământului. Dacă a fost salvat și dacă personajele voastre îndrăgite și-au găsit fericirea vă las pe voi să aflați.
CÂTEVA CITATE PREFERATE
"Kat." He uttered my name like it was some kind of prayer, and then he pressed a kiss against the skin behind my ear. "I broke every rule of my kind to heal you and keep you with me. I … burned down an entire city to keep you safe. I've killed for you. Did you think I'd forget what you mean to me? That anything in this world— in any world— would be stronger than my love for you?"
"You'd get jealous if she hugged a tree"
"We could really use the Avengers right about now."
"Screw that. We need Loki," Daemon retorted.
General Eaton arched a brow. "Well, unfortunately, the Marvel Universe isn't real, so..."
"What the hell, man?" Dawson exploded, hands flying up. "I was on level sixty-nine of Candy Crush, you bastard. Do you know how hard that—?"
"We were supposed to have tonight and tomorrow, and many weeks and months, but we didn't have even another minute."
"My eyes narrowed. "You said it was a brilliant idea."
"I think lots of things are brilliant ideas. Like nuclear weapons, zero-calorie soft drinks, and blue jean vests," he replied. "That doesn't mean we should nuke people, or that diet drinks taste good, or that you should run out to the local Walmart and buy a jean vest. You people shouldn't always listen to me."