Vampire hunter Elena Deveraux wakes from a year-long coma to find herself changed—an angel with wings the colors of midnight and dawn—but her fragile body needs time to heal before she can take flight. Her lover, the stunningly dangerous archangel, Raphael, is used to being in control—especially when it comes to the woman he considers his own. But Elena has never done well with authority.
They've barely begun to understand each other when Raphael receives an invitation to a ball from the archangel, Lijuan. To refuse would be a sign of fatal weakness, so Raphael must ready Elena for the flight to Beijing—and to the nightmare that awaits them there. Ancient and without conscience, Lijuan holds a power that lies with the dead. And she has organized the most perfect and most vicious of welcomes for Elena.
After a battle that destroyed a big part on New York and ended with an archangel losing his life, Elena Deveraux, Guild Hunter, woke up with wings.
What a ride has been Angel's Blood! We've seen an archangel go insane and another fall in love. We've met new and interesting people and explored a different world.
In Archangel's Kiss we see the relationship between Elena and Raphael develop. They try to learn how to be together, how to settle into a bond that neither of them was prepared for.
After she woke up with wings, Elena understands that her path in life has been forever altered. All she's certain of is that she loves Raphael but she has no idea how to deal with him.
He might be her lover but he still scares her. Then, there are her nightmares. Something has happened while she's been in a coma because now she keeps remembering bits and pieces from that dreadful day when her sisters were killed.
Raphael has his own nightmares. Memories from a time long gone that are coming back to him more frequently now. He knows that what he has with his hunter is something special but he also knows that being with him puts her in mortal danger, because she's something no one has ever seen before. A diversion for those immortals that have seen and done everything.
While Uram is no longer a threat, another archangel seems to have devolved but this time they fear there's no stopping what's about to happen.
New threats arise, new bonds are formed and others are broken and new mysteries enfold.
Elena will have to learn to navigate the immortal world and stay alive while Raphael deals with the changes he's going thru since he met her.
Another adventure you don't want to miss. This series gets better and better with every book. Good job, Nalini!
Happy Reading!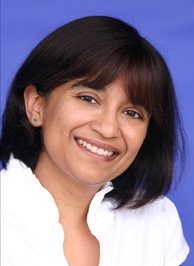 I've been writing as long as I can remember and all of my stories always held a thread of romance (even when I was writing about a prince who could shoot lasers out of his eyes). I love creating unique characters, love giving them happy endings and I even love the voices in my head. There's no other job I would rather be doing. In September 2002, when I got the call that Silhouette Desire wanted to buy my first book, Desert Warrior, it was a dream come true. I hope to continue living the dream until I keel over of old age on my keyboard.
I was born in Fiji and raised in New Zealand. I also spent three years living and working in Japan, during which time I took the chance to travel around Asia. I'm back in New Zealand now, but I'm always plotting new trips. If you'd like to see some of my travel snapshots, have a look at the Travel Diary page (updated every month).
So far, I've worked as a lawyer, a librarian, a candy factory general hand, a bank temp and an English teacher and not necessarily in that order. Some might call that inconsistency but I call it grist for the writer's mill.