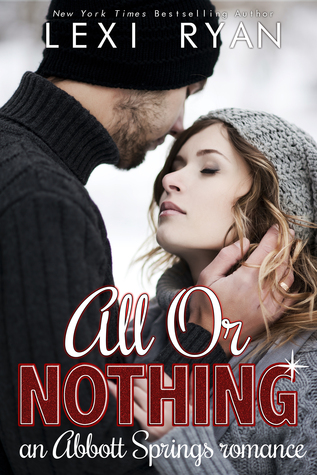 **ALL OR NOTHING is a short, sexy, new adult romance and is also available as part of the ALL I EVER WANTED anthology.**
After years of placing the wrong bets, all Aubree Baxter ever wanted was someone to take a chance on her. More specifically, she wants golden boy Kennedy Hale, her good friend and unrequited crush. After a seduction attempt gone terribly wrong, she knows pursuing anything more than friendship with Kennedy means sure heartbreak. If they're going to make this work, it has to be ALL OR NOTHING.
Aubree and Kennedy have always been friends. They grew up together and he's been there for her. In his arms she found solace when her mother abandoned Aubree and her father and when the nightmares kept her awake at night.
But their relationship changed one night when she found the courage to act upon her wishes at the bottom of a glass and he had been unable to say no.
Now, Aubree and Kennedy are stuck together during her visit home and they have to figure out how to behave and make decisions that will probably change the course of their lives.
If you have read any of Lexi's books you know she has a talent for creating original characters and captivating stories that capture the reader's attention from the beginning and hold it throughout the entire book.
It is the same with All Or Nothing and, even if it's just a novella, I'm sure you won't be disappointed.
Happy Reading!
New York Times and USA Today bestselling romance author Lexi Ryan's novels have been described as intense, emotional, and wickedly sexy. A former college professor, she now writes full-time from her home in Indiana, where she lives with her husband, two children, and a neurotic dog. Find her on Facebook or Twitter to chat about books, TV, and her children's latest antics.