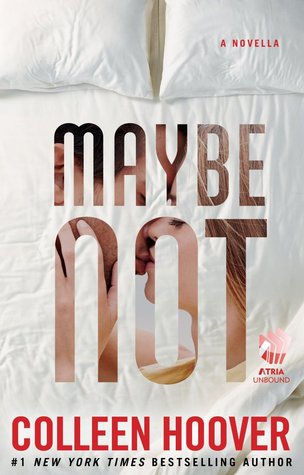 Title: Maybe Not: A Novella
Author: Colleen Hoover
Genre: Romance, Contemporary, New Adult
Expected publication: November 24th 2014 by Atria Books
Colleen Hoover, the New York Times bestselling author of Maybe Someday, brilliantly brings to life the story of the wonderfully hilarious and charismatic Warren in a new novella, Maybe Not.
When Warren has the opportunity to live with a female roommate, he instantly agrees. It could be an exciting change.
Or maybe not.
Especially when that roommate is the cold and seemingly calculating Bridgette. Tensions run high and tempers flare as the two can hardly stand to be in the same room together. But Warren has a theory about Bridgette: anyone who can hate with that much passion should also have the capability to love with that much passion. And he wants to be the one to test this theory.
Will Bridgette find it in herself to warm her heart to Warren and finally learn to love?
Maybe.
Maybe not.
Twitter and Instagram: @colleenhoover
I host a book-a-day giveaway on my Facebook, Instagram, and Twitter pages. I give something away every single day, so don't miss out!