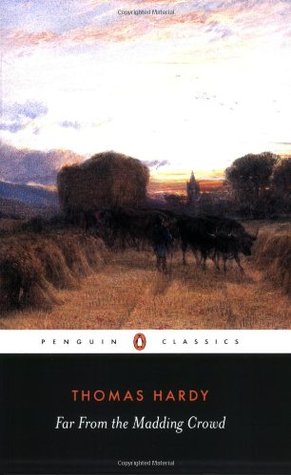 Independent and spirited Bathsheba Everdene has come to Weatherbury to take up her position as a farmer on the largest estate in the area. Her bold presence draws three very different suitors: the gentleman-farmer Boldwood, soldier-seducer Sergeant Troy and the devoted shepherd Gabriel Oak. Each, in contrasting ways, unsettles her decisions and complicates her life, and tragedy ensues, threatening the stability of the whole community. The first of his works set in Wessex, Hardy's novel of swiftpassion and slow courtship is imbued with his evocative descriptions of rural life and landscapes, and with unflinching honesty about sexual relationships.
Thomas Hardy
, OM, was an English author of the naturalist movement, although in several poems he displays elements of the previous romantic and enlightenment periods of literature, such as his facination with the supernatural. He regarded himself primarily as a poet and composed novels mainly for financial gain. The bulk of his work, set mainly in the semi-fictional land of Wessex, delineates characters struggling against their passions and circumstances. Hardy's poetry, first published in his 50s, has come to be as well regarded as his novels, especially after The Movement of the 1950s and 1960s. The term cliffhanger is considered to have originated with Thomas Hardy's serial novel
A Pair of Blue Eyes
in 1873. In the novel, Hardy chose to leave one of his protagonists, Knight, literally hanging off a cliff staring into the stony eyes of a trilobite embedded in the rock that has been dead for millions of years. This became the archetypal — and literal — cliff-hanger of Victorian prose.
Based on the literary classic by Thomas Hardy, Far From The Madding Crowd is the story of independent, beautiful and headstrong Bathsheba Everdene (Carey Mulligan), who attracts three very different suitors: Gabriel Oak (Matthias Schoenaerts), a sheep farmer, captivated by her fetching willfulness; Frank Troy (Tom Sturridge), a handsome and reckless Sergeant; and William Boldwood (Michael Sheen), a prosperous and mature bachelor.
FAR FROM THE MADDING CROWD will be released in May, 2015!