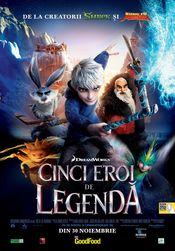 CINCI EROI DE LEGENDĂ este aventura spectaculoasă care spune povestea unor eroi cu aptitudini ieşite din comun. Când lumea e ameninţată de Pitch, un spirit diabolic, cinci eroi trebuie să-şi unească forţele pentru prima dată ca să protejeze speranţele, credinţa şi imaginaţia copiilor din toată lumea.

Proiectul "Rise of the Guardians" este bazat pe cărţile pentru copii "The Guardians of Childhood", încă nepublicate, ale scriitorului William Joyce. Personajele principale sunt celebre în lumea copilăriei: North (Moş Crăciun), Bunnymund (Iepuraşul de Paşti), Sandy (Omul de Nisip), Pitch, the Boogieman (Omul Negru, Bau-Bau), Tooth (Zâna Măseluţă).
Carol of the Bells de Vienna Boys Choir, pentru ca Harry Potter e mereu "prezent" in casa mea in perioada sarbatorilor de iarna.
Stephen King - Apocalipsa (ras malefic >:) )
Apocalipsa în direct!

O eroare de computer de numai o nanosecundă transformă lumea în pustiu. Dar cel mai înspăimântător coşmar se întrupează într-un bărbat cu zâmbet letal şi puteri inexplicabile: Randall Flagg, omul negru. Cine va învinge în confruntarea cu răul pur?

O călătorie halucinantă jalonată de cele mai incredibile aventuri printr-o lume care aduce cu Europa Evului Mediu întunecat.

"Chiar pe Main Street, din May, Oklahoma, zăcea un mort. Nick nu era surprins. Întâlnise o mulţime de cadavre de când plecase din Shoyo şi presupunea că nu văzuse nici măcar o miime dintre toţi morţii prin apropierea cărora trecuse. Erau anumite locuri în care mirosul bogat al morţii era suficient să te aducă în pragul leşinului. Un mort în plus sau în minus nu mai însemna mare lucru."
- Stephen King, Apocalipsa

Perpetuând moştenirea lui Poe, Hawthorne, Melville, Henry James şi H.P. Lovecraft, King este urmaşul tradiţiei gotice americane, plasându-şi ororile în decoruri contemporane, descriind lupta culturii cu tenebrele sale... El este cel care a relevat coşmarul civilizaţiei noastre idealiste.

"Mi-am dorit să scriu o fantezie epică asemenea celei create de J.R.R. Tolkien în Stăpânul inelelor, dar în manieră americană. Aşa a luat naştere Apocalipsa."
- Stephen King
Echipa Bibliophile Mystery va ureaza Sarbatori Fericite!